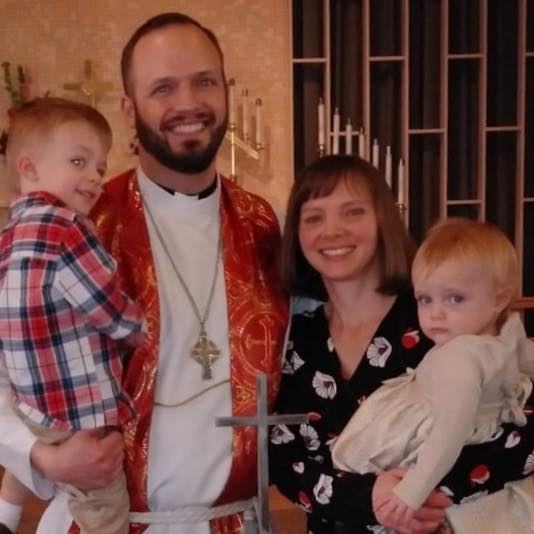 Pastor Jacob Dandy, a native Texam, began his Call at Zion Lutheran Church in January of 2020. A forgiven sinner, Pastor Dandy was raised in the Lutheran Confession of faith. His parents were zealous in sending him and his brother to Lutheran Schools for their education. This created a profound love and appreciation for the impact that Lutheran Day Schools have on young Christians. He attended Trinity Lutheran School in Klien, Texas and Concordia Lutheran High School in Tomball, Texas.

Pastor Dandy continued his education at Concordia University Texas, where he earned a Bachelor's Degree in Liberal arts with blocks in Biblical Languages and Pre-seminary Studies. He continued on to Concordia Seminary in Saint Louis where he was given a Masters of Divinity. Pastor Dandy served his vicarage at Zion Lutheran Church in Palmyra, Missouri. During his vicarage, Pastor Dandy was also commissioned as an Officer in the United States Navy Reserve as a Chaplain Candidate Program Officer.

After graduating from Seminary, Pastor Dandy was Ordained into the Office of Holy Ministry on June 30, 2013 and was installed as Pastor of Zion Lutheran Church of Crown and Crown Christian School in Saint Francis, Minnesota shortly after. While at Zion, Pastor was able to continue his Navy Training and was able to grow in his love for Lutheran Education.

In June of 2015 Pastor was joined in Holy Matrimony to his beloved wife, Rebekah. Since their wedding, Pastor and Rebekah have been blessed with their children, Grant and Frieda. Delighting in his new vocation as husband and father, Pastor resigned his commission in the Navy and was awarded an Honorable Discharge.

Pastor has a love for Biblical and Church History and was even able to travel to Israel to work on an archeological excavation that was near the location of the account of David and Goliath. He also loves reading old theologians, barbeque, cooking, and playing with his children. He has a passion for Lutheran Hymns and enjoys teaching them to his children and students.

The Dandy's are thankful to the Lord, Jesus, to be given the opportunity to serve another Zion Lutheran Church in sunny California. Being a shepherd of God's people and a Steward of His means of Grace provides Pastor with profound joy as he can delight in the gifts of his Savior. He looks forward to spending the years to come sharing God's means of Grace with the People of Zion and hopes to see you on Sunday.